You asked for the BEST! And Kolstrand delivers! Kolstrand's 26 In Power Block complete with Yoke Mounted PowerGrip and Hydraulic Swivel arrangement is superior to all others... And comes with the PowerGrip Control Panel ready to install!
Standard Features include the 'Bolt-In Replaceable Rubber Cleat' sheave (which allows the fisherman to change-out the worn rubber cleats in-the-field), super-strong sheave and sideshell castings, and nothing but the best shafts, bearing etc are used in the assembly. Additionally, the Kolstrand 26 In Power Block comes complete with the Kolstrand PowerGrip and Swivel... Haul your net from either rail without kinking the hoses! This is indeed a Power Block that you'll keep on the boat for many years of net-hauling use. And the PowerGrip Control Panel is Included!
All Kolstrand Manufactured Products, Power Blocks and PowerGrips are Proudly Made by Workers right here in the in the U.S.A.
For Application Assistance, Expedited Delivery Times, Commercial Pricing, or any unanswered questions concerning this product, please call Kal Harris in the Kolstrand Seattle Commercial Office at 206-784-2500 or e-mail kal@kolstrand.com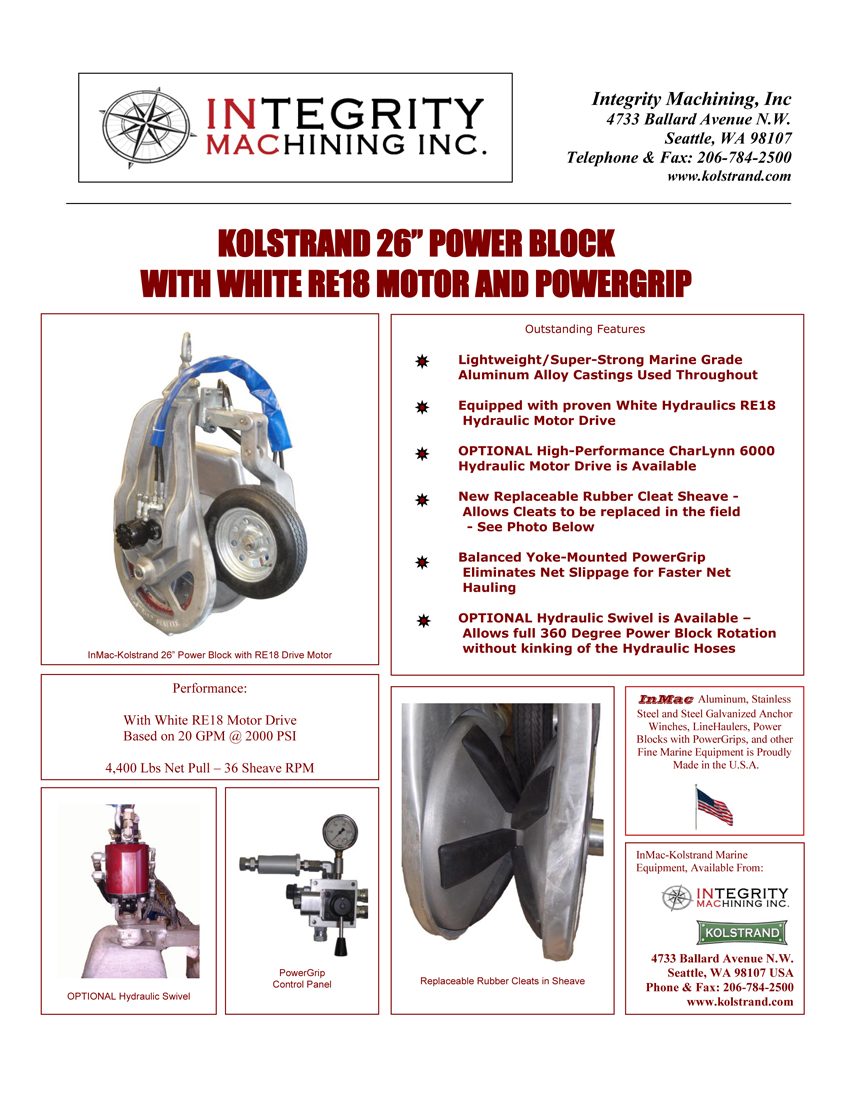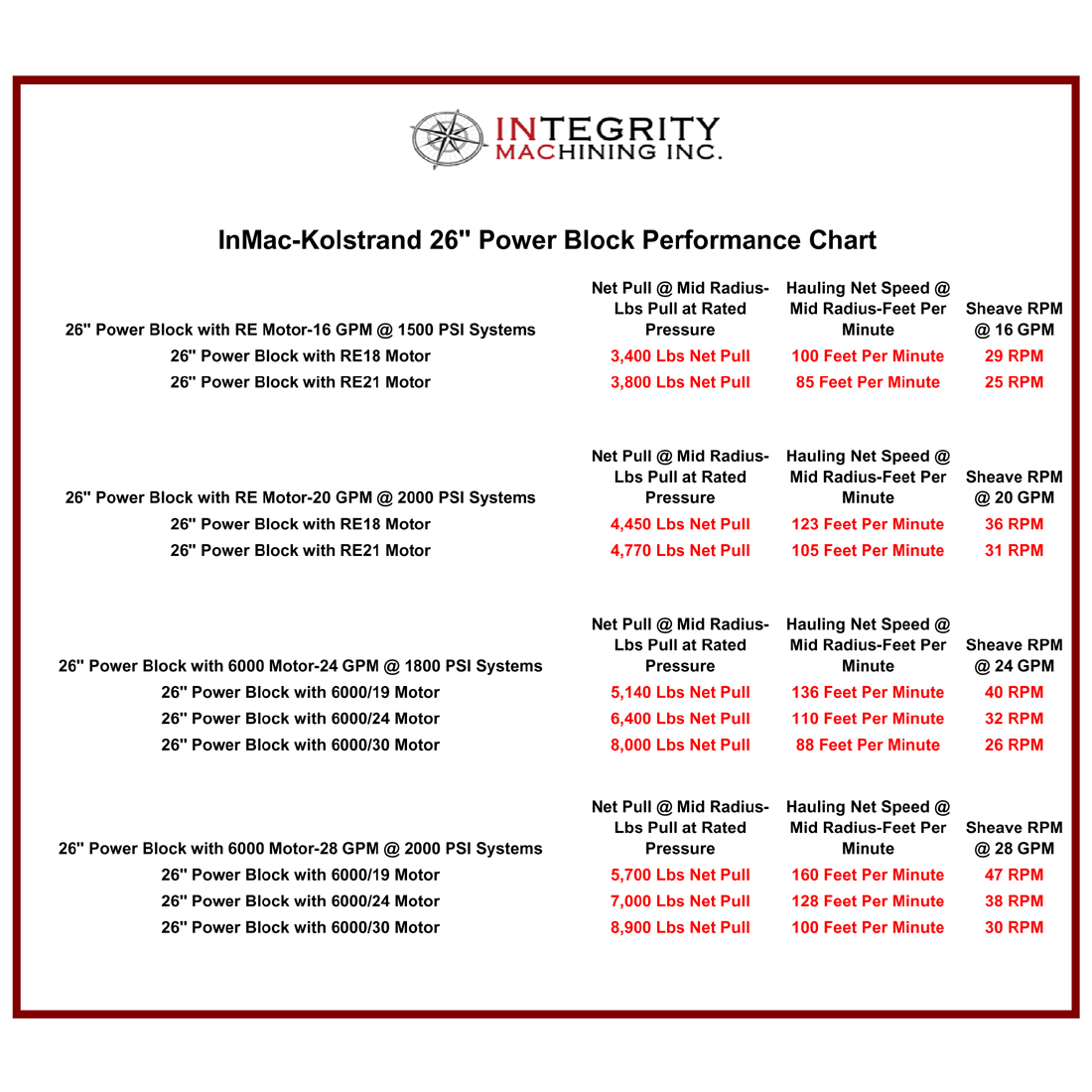 Kolstrand 26 Inch Power Block with PowerGrip and Hydraulic Swivel, Bolt-In Replaceable Cleat Sheave and RE Motor
Lightweight & Superstrong Marine Grade Aluminum-alloy Castings
Equipped with proven White RE Series Hydraulic Motor
Replaceable rubber cleat sheave
---------------------------
CONTINENTAL US SHIPMENT COSTS: As this Kolstrand Item/Product weighs more than 150 Lbs, it must be shipped Via Truck/Surface Freight to you. As Truck/Freight Charges change daily due to the Cost of Fuel, Insurance, Residential Delivery Charges, Liftgate Charges, etc., the following Freight Charges are Only for Budgetary Purposes, to be used only as guide for you to Estimate your total Delivered Shipping Costs. Actual Charges will be E-mailed to you 1 to 2 Days following your Placed Order, for you to approve of the charges prior to Shipment.
Again, the Freight Charges Below are only to be used as AN ESTIMATE FOR BUDGETARY PURPOSES! Your Actual Charges will most likely be LESS!
If we are to ship this item to the West Coast Region (WA, OR, CA, ID, UT, WY, MT, NV, CO, AZ, NM), we Estimate that it will Cost $1222.00
If we are to ship this item to the Central Region (TX, LA, MS, OK, AR, KS, MO, NE, IA, IL, IN, OH, SD, ND, MN, WI, MI), we Estimate that it will Cost $1316.00
If we are to ship this item to the East Coast Region (ME, NH, VT, MA, CT, PA, RI, WV, NJ, NY, VA, KY, TN, NC, SC, GA, AL, FL), we Estimate that it will Cost $1362.00